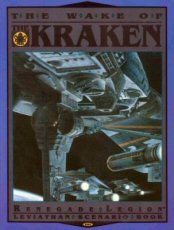 The Wake of the Kraken is a scenario book for Leviathan and the Legionnaire RPG published by FASA.
Description
Edit
"A haunted ship, a doomed man, and a voyage of no return... Rear Admiral Luther Catalus, once a famous naval strategist, had been implicated in a failed rebellion. Rather than executing and making him a martyr, TOG chose to reassign him to the INS Kraken, an ancient, and some same, haunted battleship, and send him on a suicide mission deep into enemy territory! This scenario pack includes personality profiles, history of the INS Kraken, and fifteen Leviathan scenarios between Admiral Catalus's battle group and the overwhelming adversaries he faces in Shannedam County."
Additional Information
Edit
Renegade Legion: Leviathan Scenario Book - 64 pages with 15 new scenarios.
This book includes a background story of the INS Kraken and it's new commander, Rear Admiral Luther Catalus. Catalus has run afoul of Imperial politics and has been sent on a suicide mission. The book covers the campaign fought by the INS Kraken and it's escort squadron in 15 interlinked scenarios. The campaign is designed to be played through with the same units and track damage between scenarios. Rules are included to cover resupply and repair. Complete profiles of the key members of the Kraken Squadron are also included.
The book also provides the designs of several ships, many of which are also included the Renegade Legion: Leviathan Capital Ship Briefing. Other ships are new to this book. These ships are:
Special scenario rules also include a battle within an asteroid field that has hidden units and objectives.
Community content is available under
CC-BY-SA
unless otherwise noted.