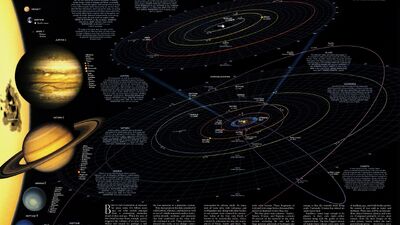 The Sol System is the solar system which includes Earth (Terra); the homeworld of Humanity. It is one of the most densely populated systems in the Terran Overlord Government.
Worlds/Inhabited Bodies
Edit
Star: Sol (G2V Main Sequence star)
Sol I: Mercury
Sol II: Venus
Sol IV: Mars
(Asteroid Belt)

Pallas
Vesta
Other Inhabited Asteroids

Sol V: Jupiter

Ganymede
Callisto
Io
Europa
Lesser Jovian Moons

Sol VI: Saturn

Titan
Rhea
Iapetus
Dione
Tethys
Lesser Saturnian Moons

Sol VII: Uranus

Titania
Oberon
Umbriel
Ariel
Miranda
Lesser Uranian Moons

(Kuyper Belt)

Haumea
Makemake
Sedna
Other Inhabited Kuyper Belt Objects

(Oort Cloud)

Community content is available under
CC-BY-SA
unless otherwise noted.