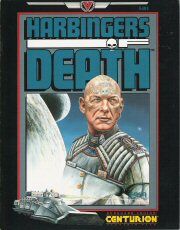 A scenario pack for Renegade Legion Centurion containing information on the Harbingers of Death, the unit's history, personnel, equipment and details 11 scenarios for roleplaying, with record sheets.
Publisher's Description
"The

13379th Legion (The Harbringers of Death)

is one of the most renowned units in the Terran Overlord Government

military

. They also became the first all-male unit in the TOG forces."
"Because the Harbringers of Death is known to this day as the most loyal unit in

Caesar's

army, they have won the enviable assignment of testing new equipment under battlefield conditions. As a result of so many years in this capacity, the unit can claim the distinction of having fought more varied opponents than any other unit."
"The Harbingers of Death are the most fanatically loyal TOG unit in existence. Elite battle-hardened troops tremble at the thought of serving with them. World populations panic at news of their approach. They have never known defeat. The First Cohort of The Harbingers of Death are the elite of this celebrated unit. Included in this scenario pack are unit personality profiles, unit history, combat readiness, and fifteen scenarios."
Gallery