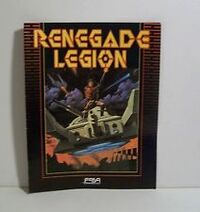 Renegade Legion is a series of science fiction games that were designed by Sam Lewis, produced by FASA, and published from 1989 to 1993. The line was then licensed to Nightshift Games, a spin-off of the garage company Crunchy Frog Enterprises by Paul Arden Lidberg, which published one scenario book, a gaming aid, and three issues of a fanzine-quality periodical before reverting the license.
Set in the 69th Century, the series allowed gamers to play out the battles between the "Terran Overlord Government (TOG)", a corrupt galactic empire, and the "Commonwealth", an alliance of humans and aliens. The focus of the plot, like with many strategy games, is to present a long term conflict to enable as many individual situations and environments as possible. Most of Renegade Legion deals with large, military battles to be played on hexagonal grid mapsheets in a turn-based rules system.
During a panel at RedCon95, FASA President Sam Lewis stated that the Renegade Legion series of games were originally designed for use with the Star Wars license. Since the license was awarded to West End Games, FASA chose to use the systems with their own setting.
The Renegade Legion series was made up of five board games, a role-playing game, a war game, two computer games, and four novels with another two games, one board game and one computer game, announced but never published. With the exception of one of the board games and the two computer games, the Renegade Legion series was compatible on all levels.