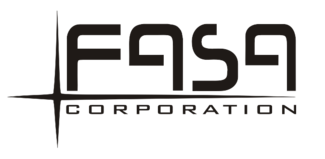 FASA Corporation was an American publisher of role-playing games, wargames and board games between 1980 and 2001, after which they closed operations for several years. They resumed operations in 2012.
FASA first appeared as a Traveller licensee, producing supplements for that Game. The company went on to establish itself as a major gaming company with the publication of the first licensed Star Trek RPG, then several successful original games. Noteworthy lines included Renegade Legion, BattleTech and Shadowrun.
Originally the name FASA was an acronym for "Freedonian Aeronautics and Space Administration", a joking allusion to the Marx Brothers film Duck Soup.
FASA unexpectedly ceased active operations on April 30, 2001, but still exists as a corporation holding intellectual property rights, which it licenses to other publishers. Contrary to popular belief, the company did not go bankrupt. Allegedly the owners decided to quit while the company was still financially sound in a market they perceived as going downhill. Mort Weisman had been talking of retirement for some years and his confidence in the future of the paper-based games business was low. He considered the intellectual property of FASA to be of high value but did not wish to continue working as he had been for the last decade or more. Unwilling to wrestle with the complexities of dividing up the going concern, the owners issued a press release on January 25, 2001 announcing the immediate closure of the business.
At Gen Con 2012, FASA Games, Inc. was unveiled, which includes FASA Corporation co-founder Ross Babcock on the Board of Directors. While FASA Corporation still manages the FASA IP and brands, FASA Games, Inc. has announced its intention to develop new games under the FASA banner.
Community content is available under
CC-BY-SA
unless otherwise noted.