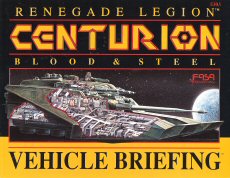 "THE RENEGADE LEGION: CENTURION VEHICLE BRIEFING is a comprehensive listing of the frequently encountered combat vehicles of the year 6831. In this complex and dangerous time, death can come from any direction. To survive, you need vehicles that can provide the proper protection, while allowing you to achieve fee objective."

THE RENEGADE LEGION: CENTURION VEHICLE BRIEFING contains illustrations, specifications and development history for 55 Grav and other vehicles, including:
Light, Medium, and Heavy Tanks — The muscle needed, to defeat the enemy, tanks deliver the raw destruction needed in the dynamic combined-arms actions of the future.
APCs — These vehicles move the Infantry to the field of battle, and no army in history could advance without infantry to lead it. If you want to conquer a world without having to bomb it into a nuclear winter, you need flesh and blood men of iron conviction.
Scouts — High-speed, lightly armored stealth vehicles, the scouts move like a whisper through the night, gathering vital intelligence on enemy strength, deployment, movement, and readiness.
Anti-Aerospace — Surface-to-air missile platforms with high-powered laser targeting systems to protect the ground units from the HELL bombs and strafing attacks that Interceptors are making in the atmosphere.
Engineer Vehicles — Used by the engineers for mine detection and disposal bridge building, demolition, constructing fortifications, and the building of hasty defenses.
Artillery units — These vehicles deliver all manner of indirect fire munitions, support combat units by propping the objective, fire against point target designated by the forward unite, and place special signal scattering rounds to mask troop movements."