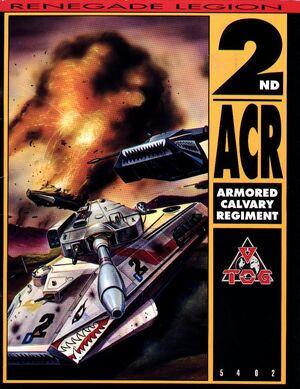 Renegade Legion: 2nd ACR Armored Cavalry Regiment is a campaign supplement for FASA's Renegade Legion series of games, centering on Centurion and Legionnaire.
Publisher's Description
Edit
"The Second Armored Cavalry Regiment may be the oldest military unit in existence. Formed in the 1800s to fight Seminole Indians in the swamps of Florida, the Second's tradition of coolness under fire and standards of excellence are legendary. In the service of the Commonwealth, the Second ACR must prove its prowess again and again, as the legions of TOG continue their advance. On Caesar's Folly the Second ACR blocked a relief force, resulting in the destruction of the 816th TOG Strike Legion. The Second ACR was then withdrawn to refurbish and reform. Now it is on Ku Crassus in the Messana Salient and must fight a desperate battle to win time for a complete withdrawal of the civilian population from that world. Personality profiles, unit history, combat readiness, and twelve scenarios. New rules! Barrage and counter-battery artillery rules make the battlefield an even more unpleasant place. New equipment! Naram stealth suits increase the deadliness of the Second ACR's elite Special Forces units."
Community content is available under
CC-BY-SA
unless otherwise noted.